Designing your floor can be a fun process but it is stressful too. With the huge range of stylish, appealing, attractive, and affordable flooring options it becomes difficult to decide which flooring will suit your place.
You want to choose the best flooring in cheap for your home, but then again you also want to do this on budget. There are a number of options that include laminate, ceramic tiles, engineered bamboo, vinyl plank, and many more! In this article, we will discuss more in-depth the pros and cons of some of the best cheap flooring options in 2023.
Trendiest Best Cheap Flooring Options In 2023
You can upgrade your home on a budget by choosing cheap flooring that only looks expensive. Fixitabudhabi.ae stocks the widest range of flooring options that are perfect to suit any budget.
No matter which places in your home, you are purchasing flooring. Reading this article keenly will provide you with information about the Best Cheap Flooring Options that are in trend in 2023.
1. Laminate Flooring
Laminate flooring is at the top of the list of flooring solutions. You can say it is the cheapest option that can add style and class to your space. This flooring is a great, stylish & attractive choice for any home. What's more, this flooring is incredibly easy to install and maintain.
Overall, it is the ideal flooring for your living room, bedrooms, and dining areas. The biggest disadvantage of installing laminate flooring in your home is that it can easily get damaged by excess water because of its fiberboard core. On the other hand, it is a great and really affordable choice.
Laminate flooring brings you the infinity design options that suit the home environment, atmosphere, or interior. You can choose from versatile colors, designs, styles, textures, and patterns. Moreover, this flooring is very easy to install. This flooring is durable enough to withstand tough conditions and endure heavy foot traffic. Anyone thinking of renovating their home laminate flooring is the best affordable option.
2. Luxury Vinyl Plank Flooring
When you hear the term "luxury vinyl plank flooring" your imagination immediately conjures up images of a high-end product. We're here to tell you that you're somewhat correct and partially incorrect.
You are correct; luxury vinyl plank flooring is a luxurious option for your house. Then again, you are mistaken because it is not at all costly. It is, in fact, one of the Best Flooring Options in cheap now accessible. Furthermore, luxury vinyl plank flooring is a waterproof, moisture-resistant, and soft-to-walk-on substance. As a result, it may be used in every room of your house.
3. Ceramic Tiles
If you're looking to renovate your bathroom on a budget, a low-cost ceramic tile could be the way to go. Ceramic tile completes the aesthetic of your home while also resisting floor swelling, sink spills, and other similar problems because it is both waterproof and stain-resistant. Ceramic tiles are also long-lasting, easy to clean, and can withstand considerable foot traffic.
4. Peel-and-stick Tiles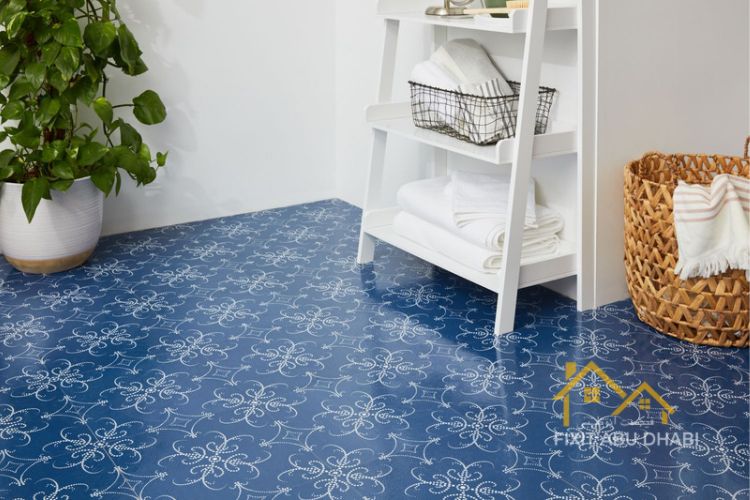 If you want to give your house a quick, fresh makeover, peel and stick tiles are an excellent, cost-effective option. These tiles are incredibly simple to install because no special equipment is required, and they come in a range of attractive designs and prints to pick from.
Furthermore, peel and stick tiles are water-resistant and washable. As a result, you may use them in your bathrooms, kitchens, entryways, and other parts of your home in addition to other locations. It is indeed one of the most Best Cheap Flooring Options.
One thing to keep in mind is that while they are simple to install, they are difficult to remove from the current flooring surface. As a result, we urge that you bear it in mind while making your purchase.
5. Carpet Flooring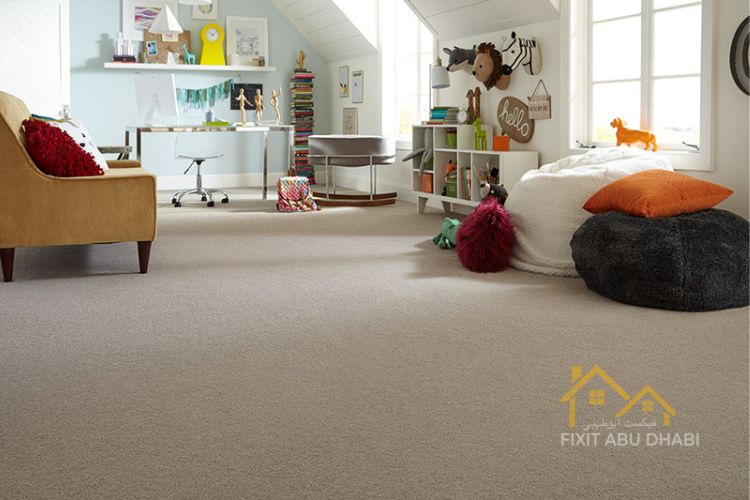 Carpet is also a popular alternative for clients looking for a good and inexpensive flooring solution. Despite the fact that carpet prices vary widely, there are some fantastic alternatives for finishing the style of your house on a budget.
Polyester carpets, for example, are quite inexpensive and have great color retention. They are also stained- and soil-proof. They do, however, have a tendency to flatten out quickly, so you may need to change them from time to time.
6. Engineered Wood Flooring
Engineered Wood Flooring is very much popular among homeowners due to its natural appeal and affordable rates. As compared to hardwood floor engineered wood floors are more reliable, durable, and affordable. It perfectly mimics the natural look. Apart from durability and affordability, engineered bamboo flooring is also very easy to install to maintain.
7. Vinyl Flooring
Vinyl flooring is one of the most long-lasting types of flooring. It's waterproof, long-lasting, and scratch-resistant. Furthermore, it is simple to set up, clean, and maintain.
Vinyl flooring is also a good choice if you have kids or dogs that like to run around the house. It can withstand high traffic areas. Furthermore, it is available in a variety of styles and patterns, giving you a wide range of alternatives to complement the overall look of your house.
Things To Consider When Buying Flooring
You must first purchase new flooring to replace your old flooring before beginning the floor removal process. Choosing new flooring for your house may be a difficult task.
When making Best Cheap Flooring Options selection, there are numerous factors to consider. According to Speedy Floor Removal, here are the eight most crucial considerations to make when purchasing new flooring.
1. Room Location And Use
What is the location of the room? What is the purpose of it? If the space will be used by individuals who will be entering and exiting from the outside, you should consider hardwood or tile flooring since they are easier to clean and maintain.
2. Coordination
Not only should you consider what colors, patterns, and textures appeal to you the most, but you should also consider what complements your present décor.
3. Care Of The Floor
Varying types of flooring need different levels of upkeep. You'll have to think about how much care and cleaning you'll have to do. Before selecting a selection, you must first assess how much time you will have to devote to the needed care.
4. Allergies
Carpet flooring may not be the ideal choice if you or someone in your home suffers from allergies.
5. Installation
If you're going to install the new flooring yourself, you'll need to know how to do it correctly.
In The End!
The above-mentioned are the best cheap flooring options in 2023. You can follow the directions to choose the best and cheap floor for your home. Knowing about these considerations is quite important to find the best floor for your home.