The market for flooring is even broader nowadays. Endless options of material, style, color, texture, and size. For many years till now people are more in love with the classic natural looks of hardwood flooring. The natural appeal and perfectly finished look make wood flooring the ultimate choice for many residential and commercial property owners. Moreover, being the most diverse flooring option, hardwood floors are available in an infinite variety of options.
As we are talking about the Solid Wood vs Engineered Wood Flooring Comparison Guide, The further classification of wooden flooring is divided into the solid wood flooring and engineered wood flooring. These two identical twin flooring options are the most widely used alternatives. These two floors mimic the perfect look of real wood and look exactly the same.
But they are not 100% identical. There are a bunch of differences that have made the flooring alternatives stand alone in the market with a unique identity. For the best variety of both of these flooring options you can visit fixitabudhabi.ae and check out the latest trending design options.
Distinctive Characteristics Of Solid Wood vs Engineered Wood Flooring
But before you make an informed decision to get one of these floors, you must consider reading this Solid Wood vs Engineered Wood flooring Comparison Guide. In this informative guide, I'll let you know about the basic differences between these two floors in order to help you out in making the right decision!
Construction Structure
Solid wood flooring is the topmost or the finest alternative to natural wood flooring. This incredible flooring falls in the category of gold standard wood flooring. It is technically designed with 100% natural pieces of wood. It is known for its high-end durability, natural authentic look, and arrays of timeless designs.
Solid hardwood flooring is available at fixitabudhabi.ae is the finest quality hardwood floor perfect to fit any space. Engineered hardwood floor is designed with multiple layers of real natural wood. In between the top and bottom layer of the original wood, there exists a highly stable core that enhances the durability and reliability of this flooring.
The middle core layer incorporated multiple layers (5-7) of plywood. These layers of plywood are mutually jumbled up. These layers can be called protective layers as they limit engineered wood floors to shift, contract, expand, or get damaged when exposed to natural climatic changes in weather and temperature.
Moisture Resistance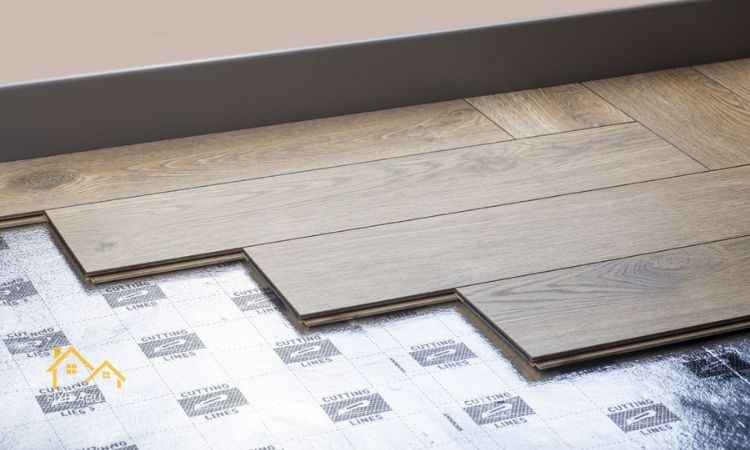 No matter which type of flooring you want to add to your home, you must consider checking if the floor holds up to your environment in your home or not. Moisture or water resistance is the biggest concern for any type of flooring. Comparison between Solid Wood vs Engineered Wood flooring, these two wood floors I find a bit of difference in the moisture resistance.
As I have said above, the solid wood floors are constructed using two layers: a basic wear layer of solid wood and a bottom layer of high-density fiberboard. This formation makes a solid hardwood floor less resistant to moisture. Apparently, this floor looks fabulous wherever it is installed but this feature of being less moisture resistant makes it less durable.
On the other hand, if we consider engineered wood floors that are designed with the classic multi-layer structure that increments durability and reliability making it perfectly moisture resistant. Due to this feature, engineered wood floors gain more popularity among homeowners.
Durability Percentage
Priority consideration for making decisions about any type of floor is durability. Choosing the floor is a one-time decision, so making it wisely is really worth it. Checking you for the features like durability or reliability is very important in order to have long-lasting flooring. Considering Solid Wood vs Engineered Wood flooring, these two incredible options, durability is comparable by considering different features.
For solid hardwood floors, the durability can be determined by wood type, thickness, width, and finish. The wood species that are properly finished & constructed with considerable thickness are durable to be used for many years to come.
For engineered wood, the durability also Varies by veneer type and thickness, board thickness, and finish. However, this wood floor alternative is less durable in terms of wood finishing. The wood species used for engineered wood flooring can not be finished as many times as the hardwood species.
Several Common Features
These two identical wood floor alternatives also differ in several other features. The difference is not too much but you must be aware of these facts in order to make an informed decision for choosing the right floor for you.
Expansion & Contraction
Solid Hardwood floors are a bit prone to expansion and contraction due to several temperature changes. Engineered wood floors do not expand or contract due to their solid manufacturing structure.
Cleaning & Maintenance
Both of these floorings are easy to clean with an occasional cleaning. You can use a regular mop to keep your solid wood or engineered wood floor neat and clean.
Refinishing & Sanding
Hardwood floors can be sanded & refinished a number of times. Engineered can be refinished and sanded but not as many times as solid hardwood.
Radiant Heat Compatibility
Very few solid wood floors are compatible. Most engineered wood floors are compatible, check with the specific manufacturer
Installation Limits
Be very careful while installing solid wood, don't consider installing it under basements or areas where moisture is present. Engineered wood floors can be installed in multiple areas like the kitchen, bathroom, basements, or more.
Budget
In Solid Wood vs Engineered Wood flooring, the cost for both floors is almost the same. However, there could be a bit of difference if you consider the wood type, looks, size, cuts, style, or finishes. Different wood species differ uniquely in price.
Final Verdict
As you can see, Solid Wood vs Engineered Wood flooring, both hardwood and engineered hardwood floors have benefits and drawbacks. Engineered hardwood is a good choice if you want a do-it-yourself alternative that can be installed in a number of rooms.
Hardwood flooring may be more your style if you want a floor that you can refinish several times and that will last for generations. Whatever your objectives, consider what is non-negotiable for your project, and always read the tiny print to understand your floor's precise restrictions.