The finest of both cultures are seamlessly merged into a modern classic interior design, a compelling fusion of classical sophistication and modern beauty. This strategy captures the essence of classic elegance while merging it with sleek lines, useful features, and cutting-edge materials of contemporary design. This thorough guideline delves into the subtleties of modern classic interior decor, from its essential components to its use in varied settings.
Defining Modern Classic Interior Design
Modern classic home design excels in fusing traditional design concepts with contemporary sensibility. While embracing the minimalist approach, neutral tones, and open spaces that define contemporary design, it pays homage to iconic design aspects like intricate detailing, exquisite furniture, and rich color palettes.
Key Elements of Classic Modern Interior Design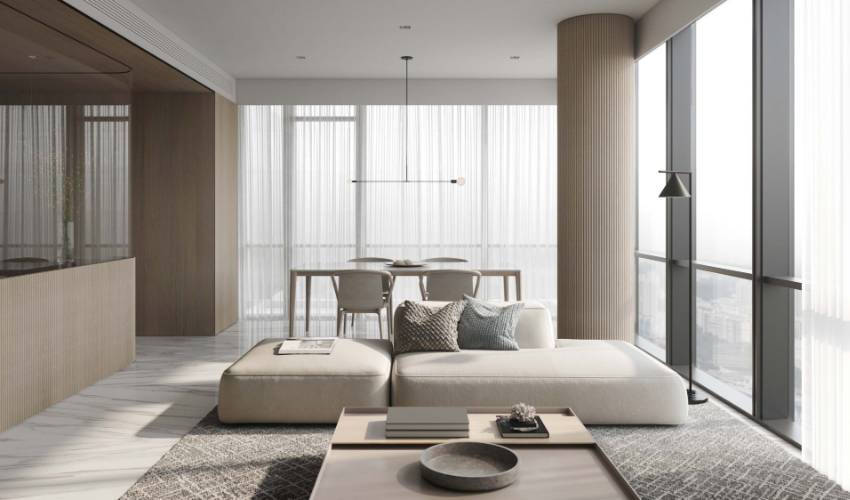 The external charm of traditional aesthetics and the slick refinement of modern trends are seamlessly merged into modern classic home design. The following are the key element of modern classic style that characterizes this harmonious fusion:
1. Neutral Color Palette
The background that neutral colors like whites, creams, grays, and soft pastels provide makes it possible for traditional and contemporary features to coexist together.
2. Timeless Furnishing
Tufted sofas, carved chairs, and elaborate tables are examples of traditional furniture items with meticulous details that meld beautifully with contemporary shapes and materials.
3. Balance Of Lines
Modern classic design skillfully combines the curves and decorative shapes typical of classic design with crisp, straight lines and straightforward geometrics.
4. Rich Materials
Combining traditional materials like marble, polished wood, and silk with modern ones like glass, stainless steel, and concrete gives visual intrigue and depth to the textures.
5. Symmetry And Proportion
A welcoming and aesthetically pleasant atmosphere is produced by achieving symmetry and balance in layouts and arrangements, which conveys a sense of order and elegance.
6. Statement Lighting
The room is elevated by crystal chandeliers, slender pendant lights, and sculptural fixtures, which highlight its traditional and contemporary aspects.
7. Artful Accessories
By using both traditional and contemporary accents, such as delicate vases and classy sculptures, the design gains personality and narrative.
Applications of Modern Classic Interior Designs
Due to its adaptability, modern classic interior design works well in a wide variety of situations, including both residential and commercial Interior Design ones. Here are some examples of how this design methodology can be successfully used in various contexts:
1. Living Spaces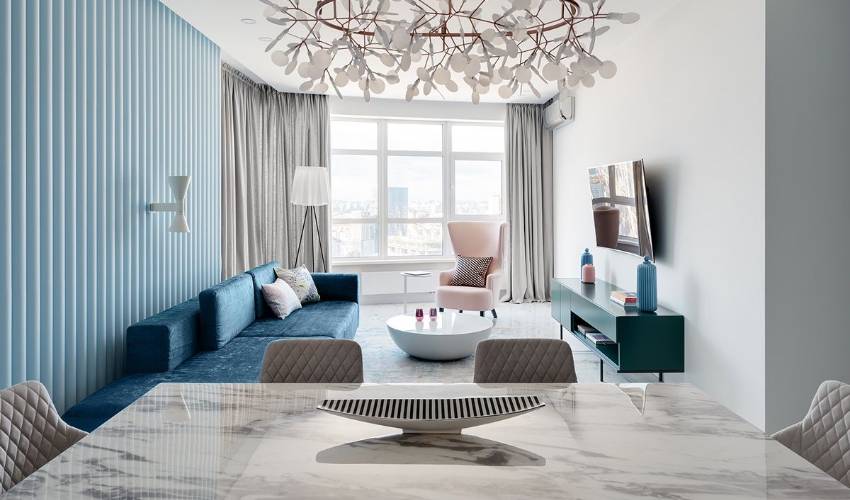 Modern classic living rooms frequently combine traditional furniture elements, such as cushioned sofas with elaborate carvings, sleek contemporary coffee tables, and understanding lighting fixtures. A pleasant and welcoming atmosphere is produced by combining traditional and modern styles.
2. Bedrooms
Upholstered headboards, attractive bedside tables, and a fusion of traditional and contemporary textiles are all examples of modern classic designs in bedrooms. A tranquil and opulent hideaway is created with exquisite details and neutral color schemes.
3. Dining Area
Traditional dining tables are coupled with contemporary chairs in dining rooms, providing for a seamless blending of styles. Statement lighting, like crystal chandeliers, turns into a focal point and highlights the elegance of the area.
4. Kitchens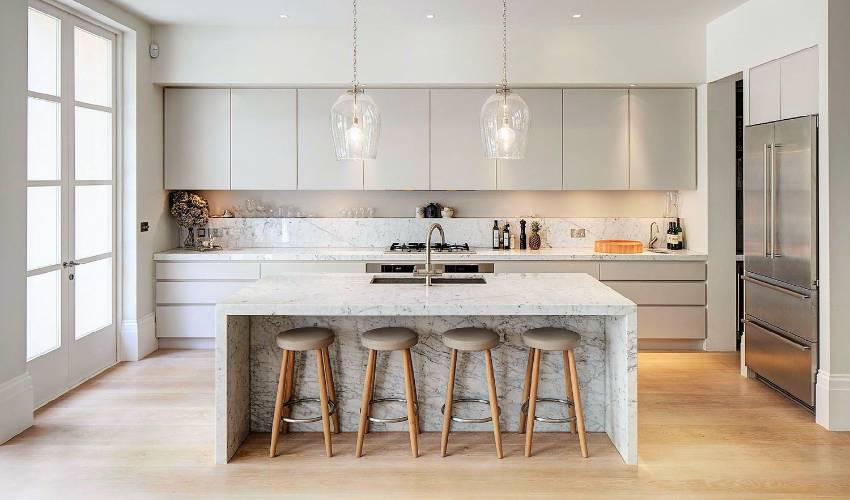 Traditional cabinetry and contemporary hardware are used in modern classic kitchens, which also feature marble worktops and stainless equipment. The architecture strikes a balance between usefulness and aesthetic appeal.
5. Bathrooms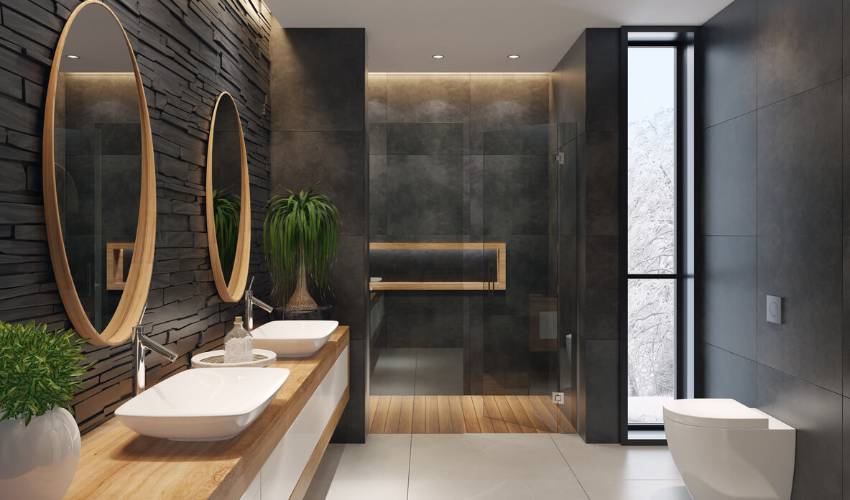 Bathrooms with modern classic design aesthetics feature freestanding bathtubs, marble tiles, and vintage-inspired equipment. The outcome is a room that radiates luxury while retaining contemporary convenience.
6. Entryways
Visitors are welcome in entryways by opulent chandeliers, traditional console tables, and contemporary mirrors. The design establishes the tone for the remainder of the room and provides a preview of the fusion of styles to come.
7. Commercial Spaces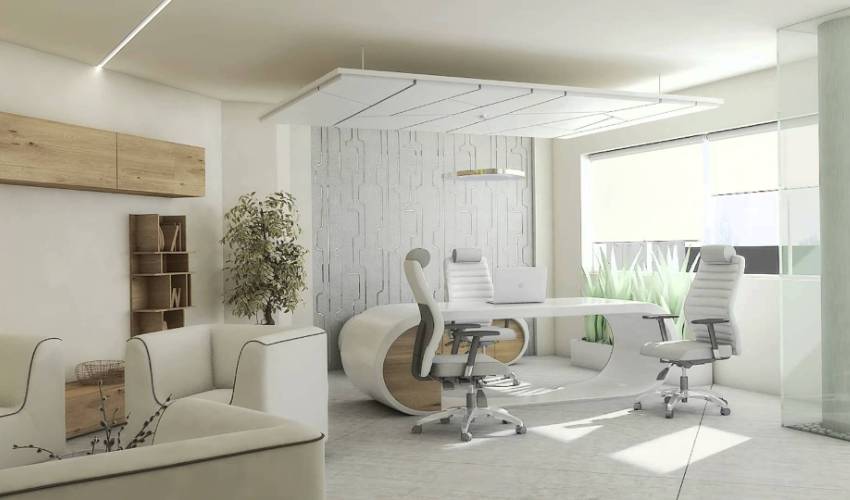 Commercial spaces like upmarket restaurants, hotels, and boutiques can be improved with modern classic design. A feeling of luxury is evoked by the addition of timeless elegance, while modern accents provide a sense of sophistication and relevance.
Benefits Of Having Classic Modern Interior Design
Given its many benefits, modern classic interior design is an appealing option for people looking for a sophisticated yet modern living space. These are the main advantages that this design strategy provides:
1. Timeless Elegance
The modern classic design produces environments that emanate enduring elegance and ensures that the aesthetics will remain alluring for years to come by skillfully fusing classic and modern components.
2. Sophisticated Ambiance
A sophisticated ambiance that appeals to those with discriminating preferences is created by blending sumptuous historical features with sleek modern lines.
3. Versatility
Due to its adaptability, modern classic design may be used in a variety of interior settings, from upmarket business spaces to private residences, to improve the aesthetics and mood.
4. Harmonious Coexistence
By allowing classic and modern components to coexist in perfect harmony, this design strategy satisfies individuals who value both traditional charm and contemporary simplicity.
5. Personal Expression
Through the use of carefully chosen furnishings, textiles, and accessories, the modern classic design encourages individual expression and enables people to incorporate their distinctive style into the environment.
6. Functional Integration
The area is not only aesthetically beautiful but also functional and well-suited to current lifestyles because of the fusion of traditional aesthetics with modern practicality.
7. Design Legacy
Modern classic interiors combine the best elements of both eras to produce a design legacy that appeals to all generations.
8. Enhanced Aesthetics
By elevating places above the commonplace, this design philosophy creates homes that are not only visually extraordinary but also emotionally impactful.
Winding Up
With its capacity to seamlessly combine the elegance of the past with the inventiveness of the present, modern classic interior design always manages to mesmerize. It offers a design narrative that embraces modernity while celebrating history, creating rooms that radiate both classic charm and cutting-edge attractiveness. The modern classic interior design creates spaces that speak to those who value both the history of design and the spirit of the present through the careful selection of furnishings, materials, and colors.