The bathroom is indeed the most important room in our home. For daily necessities, this is the most widely used space in your home. While choosing the floor and other spaces in your home you may consider looking for aesthetic appeal, design, style, and the pattern of texture. But when it comes to the best flooring for bathrooms, what is the most important consideration? Yeah, its functionality, a bathroom floor must be a well-performing floor under stress. That stress includes heavy foot traffic, a lot of water, and is easy to clean and maintain. 
Whether you are designing a new home or remodeling the old one, bathrooms are probably the most important place to renovate. Places in your home like the kitchen or bathroom have come with special considerations when it comes to redesigning them or renovation. The first and foremost consideration is water. Both of these places have to bear a lot of water flow or bathrooms even bear more. 
In order to make your bathroom flooring long-lasting and keep it fresh for a long time, you must be very much careful while deciding on the floor. In this article, I'll list down the most trending bathroom flooring options. Many expert interior designers have recommended some durable, versatile, and highly enduring floorings for the bathroom. 
The Best Flooring For Bathrooms Options In 2023
There is a host of Best Flooring for Bathrooms. Keeping your significant needs in mind you can find the flooring that suits your place best. I am listing below modern flooring options that can make your bathroom space stand out. Keenly reading about these flooring can help you make an informed decision for the best bathroom flooring:
Ceramic or Porcelain Tile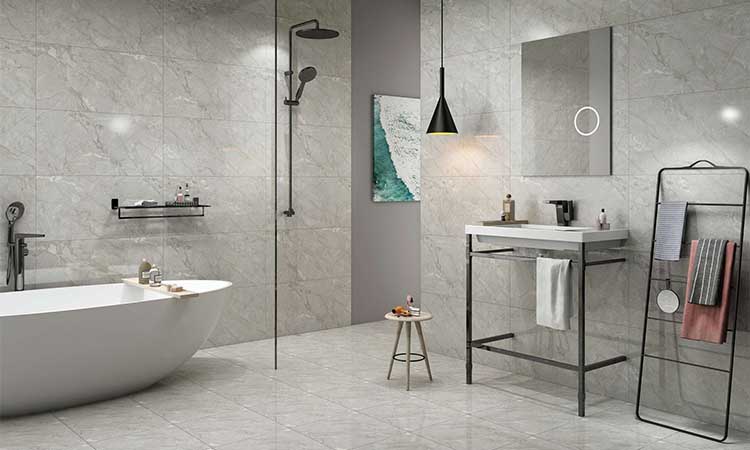 The most popular choice for bathrooms is ceramic tiles. Specifically, ceramics and porcelain tiles are great choices for bathrooms. Tile flooring features a tough outlook, water resistance & available at low prices. You can get these flooring options in a variety of colors, designs, textures, and patterns. These tiles when installed properly make your bathrooms look standout. Specifically, ceramic tiles absorb less water than any other ceramic product. 
Ceramics & porcelain can withstand pools & puddles of standing water, which makes them a great choice for shower tiles. Ceramic tiles have features that some buyers often consider as disadvantages. Tile is a hard surface, which is why it is often referred to as hard or cold, or even sterile. 
Although standing on the tiles for a long time is indeed uncomfortable, it is true for any hard surface, and the temperature of the floor can be solved because porcelain and ceramics can work well with the radiant floor system. As for sterility, it is great! The tiles do not absorb water or bacteria, are easy to clean, as well as bathroom carpets in Abu Dhabi are also an excellent choice for a sterile environment.
Best Vinyl Flooring Bathroom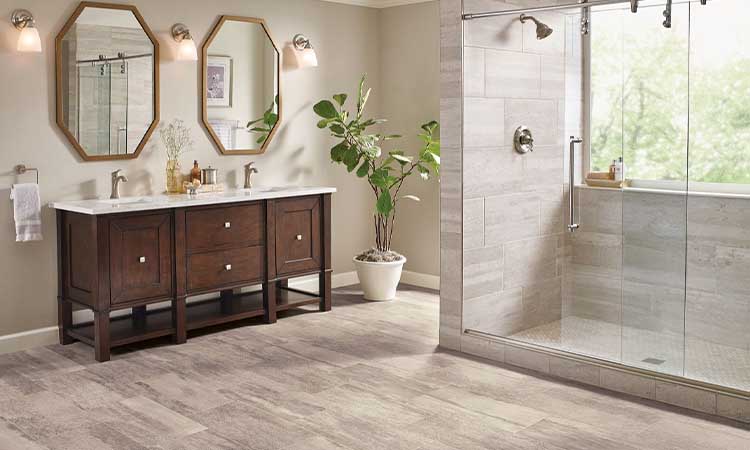 Within the last decade, vinyl flooring is considered the best bathroom flooring due to its water-resistant nature, ease of installation, and incredibly low rates in the market. This is one of the Best Flooring for Bathrooms. This vinyl flooring is available in a huge number of designs and styles in the market. Different types of vinyl flooring inc. operates sheets, boards, or tiles. 
Vinyl Sheets are the best choice for the bathroom because the installation is almost seamless, which makes it waterproof. You can classify vinyl flooring into two types of compositions. One is wood-plastic composites (WPC) and the other is stone plastic composites (SPC).  Both are made of waterproof core, but WPC is thicker, more flexible, and stronger, so it is more popular.
The vinyl floor is very durable and enduring. If pierced by a sharp object, vinyl is also difficult to repair. And because this material is very reasonably priced, it does not affect the resale value of your home as much as more expensive materials.
Concrete Bathroom Flooring 
Concrete bathroom floors are usually found in homes with tiled foundations. You can consider installing concrete shelves, slabs, or cladding for the bathroom.  The concrete slabs can be polished, dyed, painted, or stamped to create a stylish and appealing look in your bathroom. 
The advantage of concrete is that it is completely water-resistant and can be used for a lifetime. Staining or stamping concrete is not expensive, and it becomes more cost-effective when you consider the service life of this type of floor.
However, the concrete floor can be cold and hard to touch, and it is very slippery. If the surface is smooth. If you are polishing a concrete slab for use as a bathroom floor, let the trimmer leave some texture for traction.
Natural Stone Tile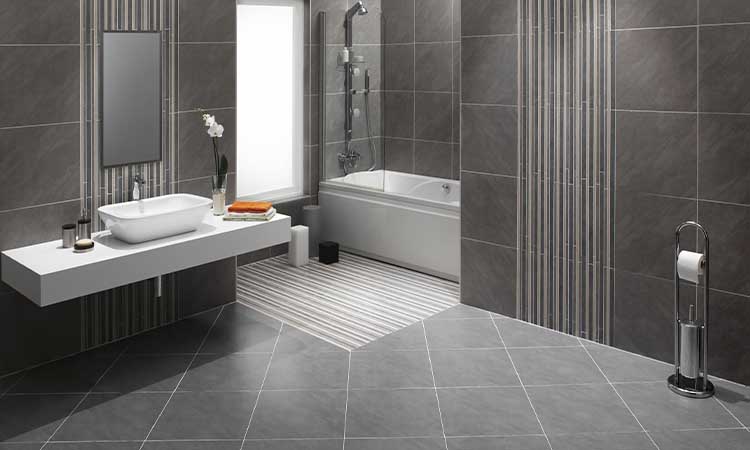 Another great choice of best Flooring for Bathrooms is natural stone. With the wide variety of natural stone flooring, you are free to choose from granite marble, limestone, or more. Natural stone tiles have many of the same advantages as ceramics and tiles. Wear-resistant, waterproof, and a variety of natural colors and patterns. 
Stones include tiles, wood panels, and even mesh mosaics, which can hold smaller tiles together. While choosing natural stone as your bathroom floor you must consider a few things. Installing natural stone is not a DIY project. If you try this project yourself, please keep this in mind. 
The stone can be as slippery as a tile, but the grout pattern and finish applied on the surface can minimize this. Compared with other options, it may also require more regular maintenance, because some stone products require regular use of sealants to maintain the smoothness of the stone and prevent dust and debris from penetrating or absorbing moisture.
Final Words!
When looking for Best Flooring for Bathrooms you must consider the size of the floor. Considering the size of your bathroom you can opt for choosing the best bathroom flooring. Among a lot of best bathroom flooring options, you can pick any of the options that suit your requirements and enhance the aesthetic appeal too. 
Be bold and don't be afraid to try something different or unusual to suit your specific taste. Finding the right bathroom floor does not have to be a chore or feel restricted. As you can see, there are far more options than you may have in the past few years. Remember, your professional flooring partner at Fixitabudhabi.ae can help you find the perfect bathroom floor.