Choosing the best flooring for the bedroom is a lot more daunting than making the flooring decision for other home areas. Your bedroom is your private space where you just have to do whatever you want, your flooring must be stylish, simple, and comfortable. While deciding upon the bedroom floor you should have to be very keen. Hardwood floors are considered the ultimate choice for a bedroom due to their natural appeal and much-needed functionality.
The majority of homeowners will agree that traditional hardwood flooring in bedrooms is always appealing and ideal for bedrooms. As a result, if hardwood floors aren't protected, they'll constantly be on the list of things to think about. Hardwood flooring is produced from natural materials found in forests. Hardwood floors are not only distinctive and long-lasting, but they also provide great quality and attractive aspects to your bedroom.
Pros of Hardwood Flooring In Bedrooms
To assist you in making an informed decision we have written a hardwood flooring in bedrooms review. You can read it carefully to learn about the pros and cons of hardwood flooring.
Durability
In comparison to other types of flooring, hardwood lasts virtually eternally. If you pick a hardwood floor, you will be able to divert your attention away from your floor improvements for a long period. Hardwood's longevity means that the homeowner won't have to worry about modifications or repairs for a long time.
Furthermore, hardwood adds value to your home and increases its resale value. It may be refinished to get the ideal style for your bedroom. It's no exaggeration to say that hardwood can last a century with proper care.
Tremendous Resistance To Dust And Allergens
Health is the prior consideration for any homeowner. So, while choosing the flooring especially for the bedroom one must check if the floor is free from allergens. Considering hardwood floor as your bedroom flooring will make you tension-free.
Hardwood flooring in bedrooms is highly resistant to dust and allergens. Furthermore, carpets contain volatile organic compounds, while hardwood provides a better atmosphere by obstructing hazardous particles.
You won't have to worry about dander, fleas, or hair becoming absorbed into the floor if you share your bedroom with dogs. If you have asthma or allergies, fumes, dust mites, and allergens might cause health problems.
Effortless Cleaning & Maintenance
A stress-free life is always easier to spend. The great ability to be cleaned with less effort hardwood flooring makes you stress-free. You don't have to do much effort to keep your home neat and clean. With just little maintenance you can have a hygienic and appealing bedroom floor.
Aesthetic Quality
Everyone wants to have a beautiful bedroom and receive praise for it. Hardwood flooring adds a unique visual value to your area just by preserving its natural beauty. The best part is that there are so many options to select from that will mix in nicely with the rest of your bedroom's decor and structure.
Furthermore, many homeowners find it simpler to coordinate furniture with engineered wood flooring rather than carpet tiles. Because wood is a neutral hue, it can mix with any combination of colors in your furniture. When renovating a space, the neutral character of wood becomes even more significant.
Bestows A Warm And Cozy Sensation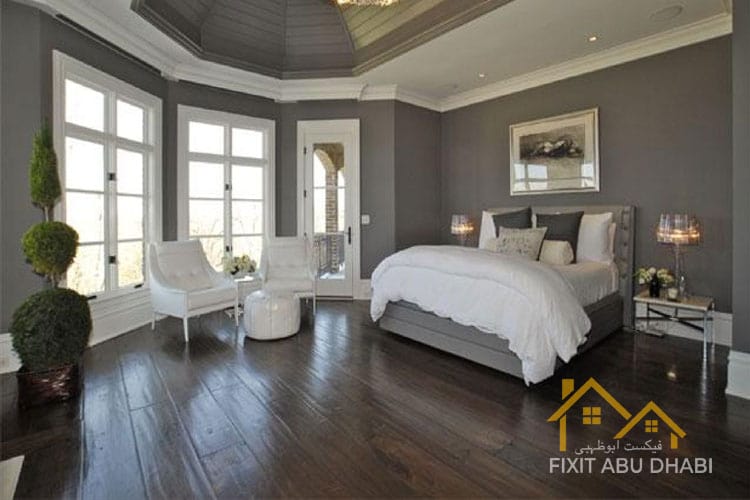 Another benefit of a wood floor is that it provides a warm sensation as you walk across it. It is a fantastic insulator that maintains heat, making it pleasant to walk on and providing a warm sensation. If you desire these advantages in your house floors, give wood flooring a second look.
Cons Of Hardwood Flooring In Bedrooms
High-priced
For good reason, wood floors are not among the most affordable flooring options. Hardwood flooring is more expensive than other types of flooring, such as carpet, due to its durability and quality.
A true hardwood floor may be pricey, especially when you factor in the expense of hiring a professional to install it on top of the cost of the components.
However, saving money with carpets or another flooring may not be the greatest decision in the long term because carpets break quickly, whereas the durability of hardwood will keep your mind safe and worry-free regarding the floor.
Noise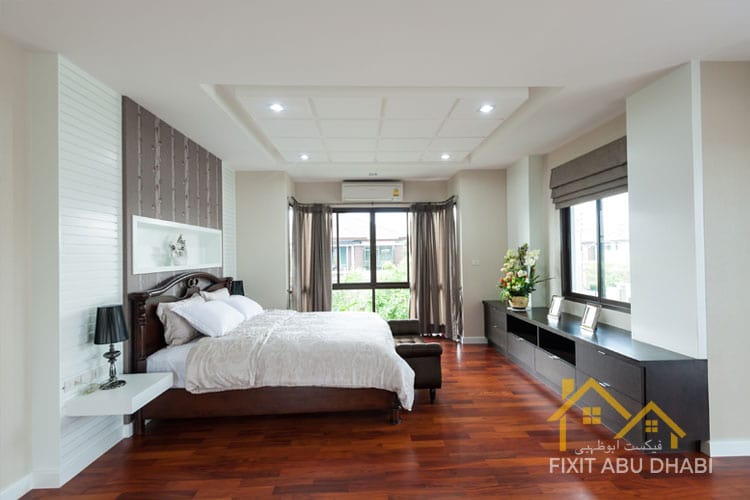 Have you ever had to walk across the floor on tiptoe to avoid waking up your roommate in the middle of the night? If you want to share your room with someone, you may need to repeat the process if you pick hardwood flooring. It's a little loud, and it'll wake up any light sleeping bed companion.
Furthermore, hardwood flooring in bedrooms isn't known for its sound dampening characteristics. This makes it an unsuitable choice for a second-floor bedroom, as it may be too loud to disturb even if an object is dropped on the floor.
Scratches and Dents
Some wooden finishes are readily scratched. In a bedroom with children and dogs, scratches are inescapable. Sharp claws from children's toys and pets can cause wounds and scrapes. In a room with children and dogs, however, you may avoid scratches and markings by using contemporary hard-poly coatings.
Susceptible to Moisture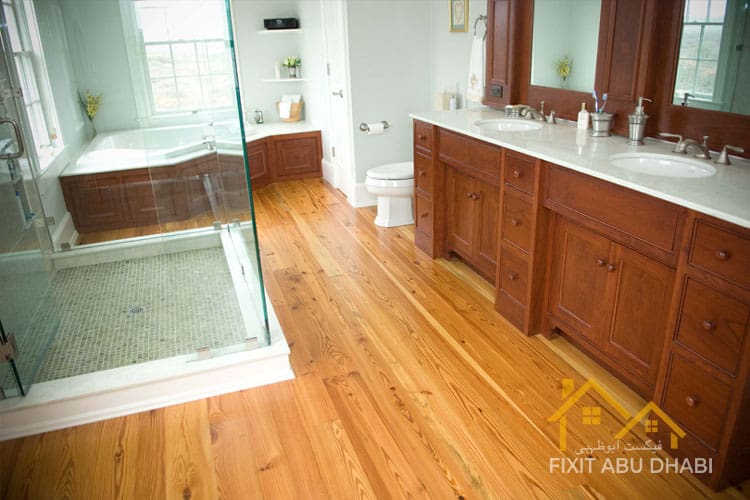 Hardwood flooring in bedrooms is more sensitive to moisture than softwood. Moisture and excessive traffic can cause the hardwood to swell and be damaged. Every water spill would have to be cleaned up immediately, and leaks would have to be avoided or repaired as soon as possible.
Usually Impacted By Humidity And Temperature
Another drawback of wood flooring is its susceptibility to changes in humidity and temperature. Because wood floors do not absorb moisture, they expand in the wet season and shrink in the rainy season.
How Do I Maintain My Wood Floor?
Wood floors may require some refinishing to compensate for the wear and tear that comes with daily use. You might wish to refinish your wood floors every ten years to bring back their original brilliance.
You may also need to guarantee proper maintenance by avoiding dampness and scratches with additional caution when using water and the usage of an area rug.
Wrap Up
Knowing about these pros and cons of hardwood flooring in the bedroom, you can now make an informed decision in order to decide whether you should opt for hardwood flooring in the bedroom or not. According to Fixitabudhabi.ae experts' recommendations, hardwood floors being the best ageless, unique, beautiful, and functional flooring, is the best option for bedrooms.
Moreover, reading this hardwood flooring in bedrooms review keenly will help you in making the perfect decision for your bedroom floor. In short, having hardwood bedroom flooring isn't impossible, you just need to consider it carefully.