Kitchen flooring has to go through a huge amount of spills many times in a day. In Fact not only this, your kitchen floor bears a lot of foot traffic, utensil drips, hot or cold water spills, and more. Considering it all, your kitchen floor must be durable, reliable, and enduring enough to bear all this.
When it comes to remodeling a kitchen there are endless Durable Options for Kitchen Flooring that you can go with. With a lot of choices, it is quite daunting to choose the best flooring for kitchen. The major consideration of floor for any place can be the material of the floor or outlook that can make or break the look of your space. Your flooring must reflect your exceptional choice and should also complement the overall design of your floor.
Basic Attributes For Kitchen Flooring
The durable options for kitchen flooring must have one or more of these attributes to be the best flooring option for your kitchen.
Durability
Performing well under hard circumstances must be enduring, and can withstand heavy foot traffic.
Cost-effectiveness
Must suit your budget, getting too expensive or too much cheap flooring is not a good idea. For the best flooring go with Innovative ideas that don't have to break the bank.
Ease of Cleaning
This is a must-have attribute, as kitchen floors have to go through a lot of spills, so they must be easy to clean and maintain.
Attractiveness
Last but not least, my kitchen floor must be attractive and appealing. It must make your kitchen look ravishing.
Let's Have A Look At 7 Best Kitchen Flooring Options
Among the host of unique, stylish, reliable, and durable flooring solutions we have a curated list of some high-trending kitchen flooring options. In this article, you'll learn about the seven most innovative & durable options for Kitchen Flooring. But before we start adding details about the best kitchen flooring options let me tell you about the basic attributes you must consider having in the kitchen flooring.
1. Hardwood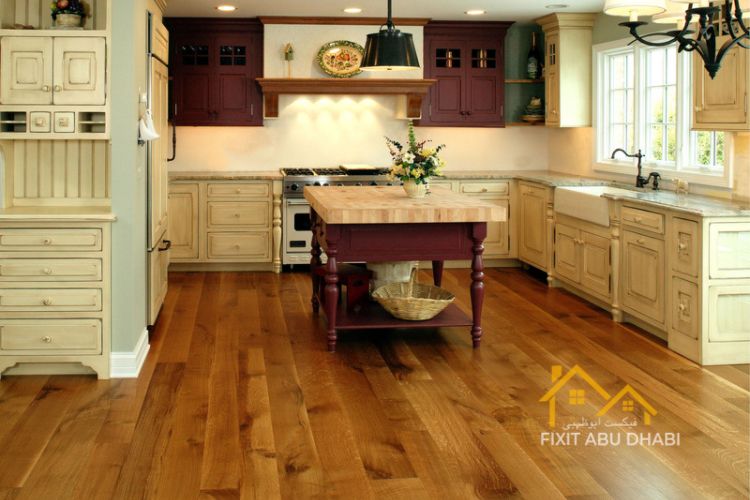 Hardwood is one of the most appealing and attractive kitchen flooring options. It is popular for its natural look and reliability. It is considered one of the most desirable options for the kitchen or can be used in other places in your home.
This extremely incredible floor is not so water resistant but a solid wood floor with perfect resilient finishes can make it perfectly resistant to water. You must consider cleaning it on priority if it experiences any type of spill.
Hardwood flooring, one of the most durable options for kitchen flooring, is capable of revamping the look of your kitchen with just a minimum refinishing. Going with this flooring option makes it more convenient in renovating your kitchen look.
2. Ceramic Tile Flooring
The most renowned option for kitchen flooring. Ceramic tiles are the ultimate kitchen flooring solution with the highest percentage of durability and easy-to-maintain features. Being the easiest option for quick clean up this flooring option stands as the top choice for many homeowners.
No matter what you are considering to decide upon your kitchen flooring option, ceramic tiles are a great way to go. High-end durability, extreme reliability, grade-A manufacturing & Superb stylish options are the few features that are the top reason for making this the most admired kitchen flooring option.
The most facilitating thing about this floor is that you have plenty of design choices. Being capable of making incredible patterns makes these ceramic tiles a top choice. Other inspiring features include water resistance, stain -resistance, easy to clean, fade resistance, and higher life span.
3. Cork Flooring
The trendy flooring option was recently added to the list of kitchen flooring. This is one of the most durable options for kitchen flooring that completely fits the standard considerations for kitchen floors.
Durability, cost-effectiveness, versatile styling options, and attractive aesthetic appeal are the basic features of this flooring solution. Available in inspiring installation options like peel & stick, glue-down or snap-together tiles, or cor plank flooring. All these options are exceptional and make your space stand out.
This superb floor doesn't feel cold to touch and it offers a soft underfoot with a springy feel. With the cushioned manufacturing this flooring features in best sound absorbing nature. This is mostly available in brown and grey shades. A perfect stain-resistant flooring, but if accidentally you spill anything on this floor, consider wiping it out at the earliest before it gets absorbed in it.
4. Bamboo Flooring For Kitchen
So the high-grade floor has a variety of shades and styles. This floor offers you plenty of choices along with guaranteed durability. Infinite choices available in textures, patterns, and styles make this flooring solution a prior choice.
Bamboo kitchen flooring is highly resilient flooring. You don't have to worry about stain marks, moisture, and heavy foot traffic. As this flooring is available with superlative qualities to resist all these that makes it the most enduring kitchen flooring option.
5. Vinyl Plank Flooring For Kitchen
LVT flooring is the most durable flooring options for your kitchen. Cost-effective, appealing, attractive & sustainable flooring solution. The best thing about this floor is that it is easy to clean. You don't have to go through a long cleaning process to make it look fresh, you just need to use a mop or sweep the floor regularly to maintain its stylish look.
There are many options that you can choose like hardwood or natural stone to make your space appealing. You can also consider installing padding under this floor to make it more comfortable for working for long hours.
6. Laminate Kitchen Flooring
If you are looking for a colorful flooring option for your kitchen then a laminate floor is a great option to opt for. Endless varieties of colors and designs are available if you choose this flooring option.
Incredibly easy to install, high moisture and stain-resistant can withstand heavy foot traffic, and inexpensive, these features make it a perfect choice for a kitchen. With the easy maintenance options, you can design your perfect cooking space.
7. Concrete Flooring For Kitchen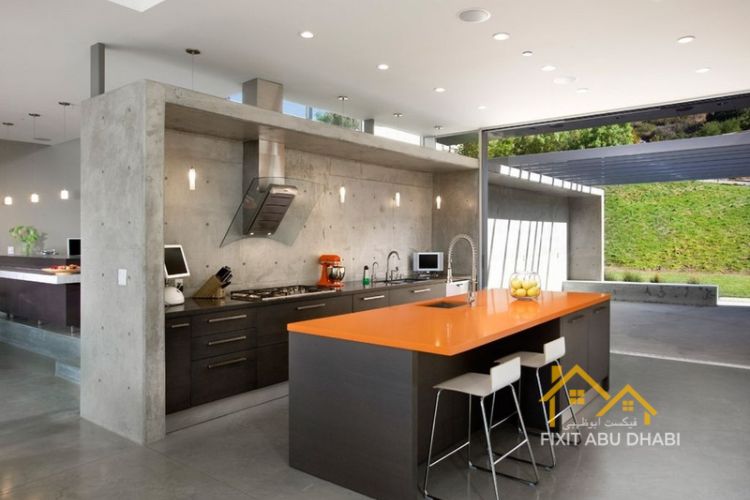 One of the most durable options for kitchen flooring & top-choice for many homeowners. This is easy to clean, easy to polish or finish with a special tint, and an extremely water-resistant floor.
A concrete floor is a great option with a much-needed sturdiness that makes it great to endure a lot of foot traffic, high amount spills, minimize the chances of slips and trips and offer a great range of designing choices.
In The End!
All the above-mentioned durable options for kitchen flooring are trending nowadays. Considering your design choices and your needs you can choose the most desirable option for the kitchen floor for you.
You can choose one of my suggestions to get installed in your kitchen. Expert installers at fixitabudhabi.ae are great at installing any type of floor, you can get professional and cost-effective flooring for them.