Are you thinking about drilling holes in the walls for blind installation? We recommend not to do it. Do you know why? Keeping your walls free from holes not only makes your space attractive but also adds value to your building. It is essential to install them because these blinds add luxury and enhance the elegance of your space. But if you are still confused regarding introducing blinds with no drills, let's learn about them briefly.
What Are No-Drill Window Blinds?
The blinds that can be installed with the help of tension rods, adhesives, magnetic discs, or command strips are known as non-drill blinds. These are also known as a no-tool blind because they don't need any screws, brackets, discs, and hooks for installation. Below are some types you can choose for your window treatment.
Peal-And-Stick Window Blinds
Magnetic Window Blinds
Self Adhesive Window Blinds
Clip-in-Blinds
Hanging Blinds with Tension rod
What Are the Advantages of No-Drill Blinds?
Saves Time: If you are a busy person, then you must go with this option because its installation is not time-consuming. Unlike traditional methods that need to drill holes, it saves your time. You just need magnetic backings or a rod for this option.
Easy Installation: The most exciting benefit is its installation process, which is not difficult. Because it is a no-tool option, you can install these commercials and residential window blinds without the help of any professional.
Various Style Options: They are available in multiple styles. You can choose according to your preferences. The roller, Venetian, Pleated, and Wooden are some of its styles.
Affordable Option: These are budget-friendly options for your space. You don't need to purchase expensive tools and materials for its installation. The command strips, adhesives, and tension rods are an affordable choice.
4 Easiest Installation Methods
Required Materials
There are some essential materials that you will need.
Measuring Tape
Adhesive Strips & Hooks
Magnetic Discs
Self-adhesive Blinds
Tension Rod
Damp Cloth
Command Strips & Hooks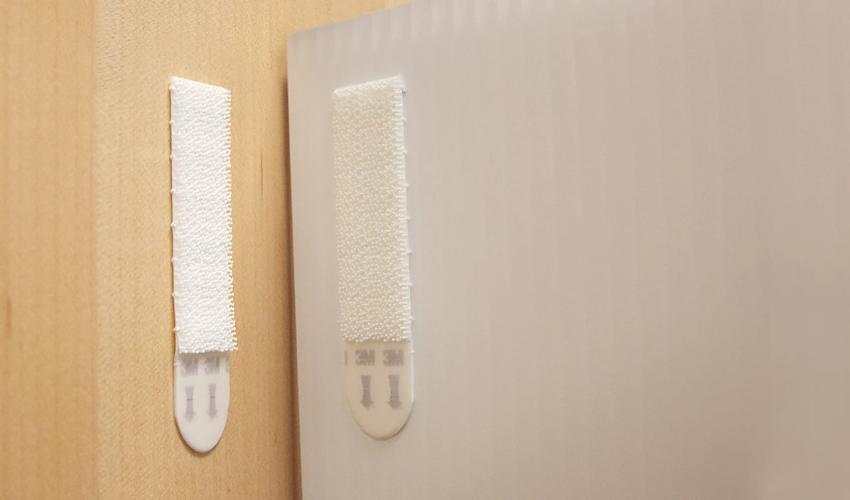 While searching to hang mini blinds without brackets, there will come a question in your mind: can you hang blinds with command strips? The answer is yes. Command strips and hooks could be a good option for installation. Command strips come with adhesive properties to save your building walls from getting drill holes.
For this method, clean the dust particles from the surface using a cloth because it can affect the adhesion of command strips.
After cleaning, take the command strips, remove their backing, and place it on the window frame.
For better support, use three command strips; place two on each side and one on the middle.
After removing the adhesive backing, place the blind on it and gently push it for 10 seconds.
Now, place the rod in the hooks, and here you are with this easy and affordable method.
Magnetic Discs & Brackets
There is an easy and quick method of magnetic discs and brackets that you can choose to make your wall protected from holes. You can also purchase a magnetic blind that doesn't need any holes for brackets, but if you have a window frame made of metal, you can buy a disc or rack made of magnetic material to hold your blinds.
Make the surface free from dust particles; you can use alcohol wipes for cleaning.
Take the brackets or discs and place them on the window frame by removing the protective backing.
Now, take the blind and place it to the magnets, hold it for a second, and leave.
You can also use magnetic blinds, where there is no need for any disc or bracket; just peel off the backing and place it on the metal frame.
Clip-in-Blinds
The Clip-in-blinds are also one of the most effective methods to keep your walls decent and protected from holes.
They come with several clips along with the given instruction from an expert.
Just place the clips between the window and the rubber seal.
Now, attach the blinds with these brackets or clips and enjoy your window styling.
These blinds can be installed with no magnetic discs and command hooks.
An adhesive strip is attached to their back so you can easily install them. You must peel off the strip and place it on the window frame. It is the simplest and easiest method of blinds installation.
Tension Rods
The use of a tension rod is also an easy and quick way of installation. It is adjustable, and you need to tighten it for secure hanging.
Using measuring tape, always take a precise measurements of your window frame to avoid later-on troubles.
Now, according to the measurement, purchase a tension rod and unbox it.
Take a cloth to make the surface dirt-free.
Stitch the blind in this rod and adjust it according to the size of your window by moving it clockwise.
By following these methods, you can put up blinds without drilling.
Conclusion
Whether you live in a rented apartment or own a home, it is necessary to keep your place free from holes. Adding blinds to your interior theme has become a necessity nowadays, but these window blinds destroy the look of your place's walls. No fear, you can now add window blinds without drilling because of the advancement in interior design market. With no drill holes, not only your building walls will appear decent but this no-drill window treatment methods add an increment to your building's resale value. Follow the above methods to put up blinds without drilling.