Professional Office fit-out services entail thorough planning, design, and implementation of business or residential spaces to improve usability, aesthetics, and functionality. These services cover a variety of duties, such as furniture selection, lighting design, wall and floor coverings, and layout optimization in general.
To connect design with the desired atmosphere and brand identity, fit-out specialists work with clients to understand their needs. From concept development to building and installation, they oversee the entire project, assuring the flawless integration of numerous components.
Reasons To Hire Professional Contractors In Dubai For Office Renovations
Customized, functional interiors that meet clients' expectations while following design principles and building standards are created by professional interior designing services. Hiring experienced office fit-out contractors in Dubai has many benefits that can have a big impact on how your workspace is transformed. Here are five compelling reasons to consider this:
1. Expertise And Insight
Office furnishing specialists bring a wealth of knowledge to the table. They are knowledgeable in the specifics of spatial planning, aesthetic designs, and practical layouts. They can optimize your office space based on their findings so that it complements the requirements of your business and your brand. Their knowledge enables them to anticipate problems and offer creative fixes, guaranteeing a successful change.
2. Efficient Project Management
Project stages for office fit-outs range from original design through final installation. Professional contractors manage each stage methodically to streamline the entire process. They plan activities including purchasing furniture, interior design, installing electric systems, and more. Their methodical approach reduces interruptions to your business activities and guarantees a project that is finished smoothly and on time.
3. Tailored Design Solutions
Every company has different needs for their office space. Professional furnishing contractors create unique design solutions that represent the culture, beliefs, and objectives of your business. They design a workspace that promotes productivity and well-being by taking into account elements like workflow, employee collaboration, and branding. This customized approach distinguishes your office and improves its usability.
4. Regulatory Compliance
Commercial premises in Dubai are governed by specific laws and codes. Professional contractors are knowledgeable about these specifications and will make sure that your office design complies with all relevant guidelines. They make sure that your workspace not only looks amazing but also conforms to local standards, from safety protocols to accessibility features.
5. Cost And Time Efficiency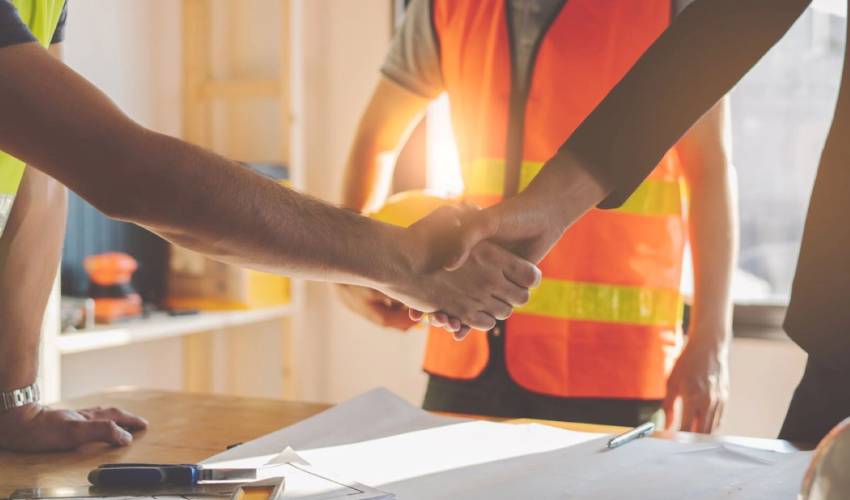 A faster project completion and long-term cost reductions might result from choosing experienced office fit-out contractors
. Their knowledge makes it possible to make precise cost projections, preventing budget overruns. Additionally, their effective project management reduces downtime so you can use the renovated space faster. Faster resumed company operations result from this efficiency.
Factors To Consider When Choosing A Professional Fit-Out Service
Making the best option when choosing a professional office fit-out service can have a big impact on the success of your workspace as well as its usability and appearance. Several important variables should be carefully considered to ensure a smooth, flawless and satisfactory transformation:
The fit-out service industry experience is an important consideration. Opt for businesses that have a track record of completing office supplies projects effectively. Professionals with experience are aware of the subtleties of building, design aesthetics, and space planning. Their experience guarantees that your project will be carried out precisely and successfully.
Portfolio and Previous Projects
Examine the fit-out service providers' portfolio to get a sense of the scope and caliber of their prior work. This provides information on their design aesthetics, functional range, and adaptability. Pay attention to projects that relate to your industry because having a thorough understanding of industry-specific criteria will help the project succeed.
Customization And Design Skills
Office fit-outs that work include adapting the area to your particular requirements. Check whether the furnishing provider can create designs specifically for you that reflect your brand identity and further your business goals. Look for innovation, meticulousness, and a strong understanding of how design affects output and worker satisfaction.
Quality of Workmanship and Materials
The longevity and beauty of your office space are directly influenced by the caliber of the materials used and the level of craftsmanship. A workspace made of high-quality components and expertly crafted results in a space that is both aesthetically pleasing and long-lasting.
Client References and Testimonials
Request references or testimonials to get feedback from prior customers. This first-hand knowledge can provide light on the professionalism, dependability, communication, and capacity to live up to expectations of the service. Positive testimonials might boost your decision-making confidence.
Innovation and Technology Integration
Modern workplaces frequently gain from cutting-edge design ideas and technological integration. Find out if the supplier service can include cutting-edge trends, eco-friendly methods, and smart office situations.
Communication And Collaboration
Collaboration and comprehensive communication are essential to the project's success. Pick a provider that respects your opinions, keeps lines of communication open, and tries to comprehend your goals. A productive working relationship is facilitated by regular updates and the capacity to consider your suggestions.
A reputable fit-out service ought to provide warranty and maintenance service as well as post-project assistance. Ask them about their procedures for dealing with any problems that may occur after completion to make sure that your investment is kept in top shape.
Winding Up
Employing qualified office fit-out contractors in UAE is a wise move that guarantees the best possible makeover of the workspace. Their experience ensures cutting-edge design solutions, effective project management, adherence to rules, superior craftsmanship, and a smooth collaborative process. By hiring them, you are preparing your company for increased productivity, employee satisfaction, and a strong brand identity in addition to investing in an aesthetically pleasing and practical office.